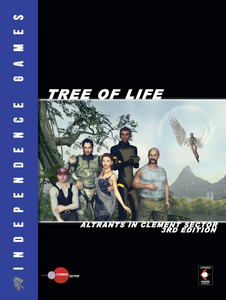 Are you ready to alter your experience?
Altrants are defined as groups of humans which have been genetically manipulated to have abilities different than a baseline human. These changes were most often made to allow humans to be able to perform tasks or live in environments which would be difficult or impossible for baseline humans.
Tree of Life: Altrants in Clement Sector details altrants, how and why they came into being, how they deal with humans and uplifts, and what sort of lives they live within Clement Sector.  Tree of Life expands on the information provided in The Clement Sector Core Setting Book and introduces you to new altrant types such the Siren, the Khailt, and the Baaz.
In addition, Tree of Life brings you the ability to not only alter existing human and uplift characters but also provides you with a system to create your own altrant types.  Humans in Clement Sector have long had the ability to make alterations to their bodies and now your characters will be able to make changes as well.
Tree of Life is intended for use with the Clement Sector setting and rules but could be easily adapted for use with any science fiction rules or setting.