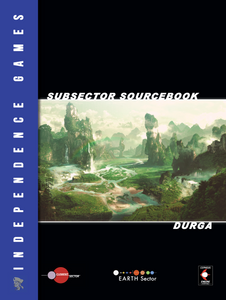 Worlds for adventure!

Durga Subsector, Subsector C of Earth Sector is a part of the civilized core worlds of the sector. Named for the Hindu goddess of war, strength, and protection, the subsector is held by three powerful nations: China, The United Kingdom, and the Union of Scandinavia.

Durga includes the garden world of New Windsor, the icy world of Pingdan, the agricultural world of Långt, and the bleak world of Niflheim. It is also home to an independent world, Arthur's World, ruled by a benevolent yet eccentric monarch.

Filled with system maps, world maps, and physical data for each world, this book is a treasure trove of information for Referees who want to take their Earth Sector adventures further afield or for those who simply want a variety of worlds for their uses. Government, legal, cultural, and population details will assist the Referee in painting a picture of each world for their players.

Experience the adventure!