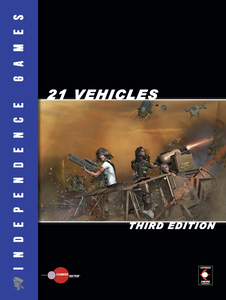 Need a ride?

21 Vehicles is the first book in a new series set within our Clement Sector setting. Within this publication are details and illustrations of twenty-one civilian and military vehicles that can be typically found within Clement Sector.

All the vehicles have been designed using the Cepheus Engine Vehicle Design Guide (also written by the author of this book) which is available from Moon Toad Publishing and thus can readily be used within any setting using the Cepheus Engine rules system. The vehicles can be used with other settings as well with a minimum of effort.

This includes such vehicles as:

The American Dreams RetroWheels Gravcycle - A sporty vehicle seen as a statement of freedom by the youth of Cascadia.

The Swiftwing Suborbital Hypersonic Passenger Transport - Offering fast transit from one city to another!

The AMV/G Combat Car - A venerable armored troop carrier.

The AufzugPanzer Selbstfahrlafette APz.Sfl.VI Ausf C Langen Arm self-propelled rail gun - The Hub Federation's primary self-propelled artillery!

Climb aboard!
41 page book.  Softcover book.  Includes Free PDF.