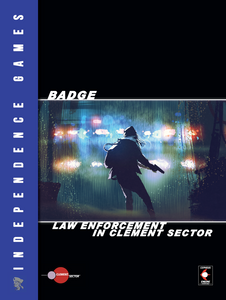 Serve and protect!

Whether it is keeping down criminal activity, maintaining order, or simply keeping the corporation's employees in line, each of the worlds of Clement Sector has their own law enforcement agency and methods of enforcing the laws created by that planet's government. This book delves into the differences between the philosophies of those worlds, details their methods, and gives players and Referees an insight into how law enforcement works on the worlds of Clement Sector.

A companion volume to Outlaw: Crime in Clement Sector, this presents crime from the view of those trying to prevent it or attempting to catch those who have committed it.

Badge: Law Enforcement in Clement Sector features ten new law enforcement related career paths for Clement Sector including Private Detectives, Police Tactical Units, Bomb Squad, Internal Affairs, and Crisis Negotiators.

118 page book. Hardcover. Includes Free PDF.