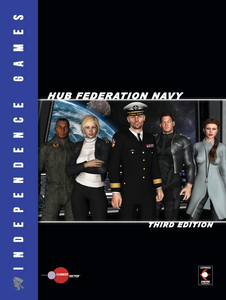 Join the Hub Federation Navy!

Over eleven years after the collapse of the Conduit which led back to Earth Sector, the Hub Federation Navy remains the largest military force within Clement Sector. With dozens of vessels ranging from cruisers to lowly sloops, The Hub Federation Navy is a reassuring bulwark of security to the citizens of the Hub Federation many of whom are still shaken by the severing of the long link back to humanity's birthplace.

Now you and your players can join this force with Hub Federation Navy!

Hub Federation Navy provides an in-depth look at Clement Sector's largest fighting force. The book gives Referees and players details concerning the navy's origin and history and its foundation built on the long traditions of the national navies which preceded it.

Hub Federation Navy also provides full character career progressions through eleven specialized navy career tracks usable with Clement Sector, Cepheus Engine, or any other 2d6 based science fiction game. Chart your character's course and take your character through a full naval career from the General Duties career track all the way to the High Command career track!

Sign up for a life of adventure! Join the Hub Federation Navy!

124 page book. Hardcover. Includes Free PDF.