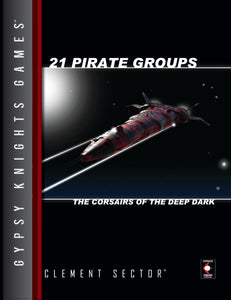 Ahoy, mateys!
Within these pages are some of Clement Sector's most notorious buccaneers, freebooters, marauders, and raiders.  The worst of the worst.  21 Pirate Groups provides worthy enemies (or allies, we don't judge) for your characters as they ply the spacelanes.
Have your characters face off against the growing Red Talon Cartel, the fanatics of The Righteous Few or the horror of The Dark Terror.  They can encounter the desperation of The Survivors, the professionalism of The Soaring Eagles, and the sheer ineptitude of Fierce Jaguar.
While this book has been created with Clement Sector in mind, these pirate groups can be easily used in any campaign setting where pirates are a threat.