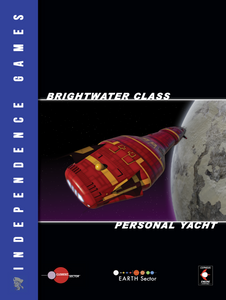 Travel in comfort!

Unhappy with the limited yacht options of mostly larger designs, Indian robotics billionaire Arjun Giridhar decided to commission a new, smaller yacht design. He specified that the ship had to be the smallest hull possible for a Zimm capable ship, have moderate normal space acceleration, and provide very high-class accommodation for up to four passengers. Two years later, and after considerable negotiations, Paragon Industries Shipyards were chosen to design and construct Giridhar's yacht.

Paragon requested purchase rights for the design with the intent that they could offer the yacht as a construct by commission basis for the wealthy of Clement and Earth Sectors.

And now you, too, can get one!

This book contains full deckplans for the TL12 version and the TL13 version of the Brightwater prepared by our starship guru, Michael Johnson. This is accompanied by the beautiful art of fan favorite, Ian Stead. Within these pages, you can learn about the two versions of the Brightwater, its history, and its future.

Climb aboard! The journey is always comfortable in a Brightwater!