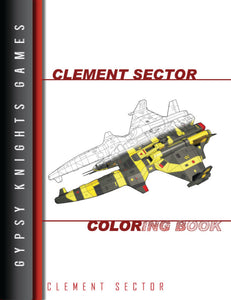 Add your own color!
For your relaxation and pleasure, we present to you seventeen of Clement Sector's finest starships for you to customize as you see fit!  Now you have the opportunity to color in the art of fan favorite artist Ian Stead.  Want a yacht colored like a bumblebee? Done. Want to have a red Strikemaster-class brig? Perhaps a blue and gold Rucker-class merchant?
It's your decision! Let your creativity flow forth!
In addition, you can learn valuable details about each ship class with information taken from our Ships of Clement Sector series written by Michael Johnson.
Let the customizing begin!