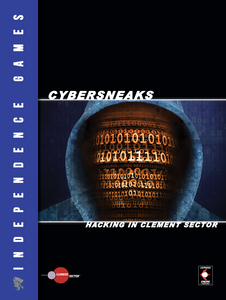 Shall we play a game?

As long as there have been computers, there have been those who wanted to hack them. From those who are committing criminal acts for profit to those who are doing so in support of a cause, cybersneaks are out there lurking.

A companion piece to Outlaw: Crime in Clement Sector, Cybersneaks: Hacking in Clement Sector gives the background and history of hacking as well as how hacking can be used by your characters to further their own goals. The mechanics of hacking are included with a step-by-step process to allow your characters to hack into a computer system along with the equipment to do it.

The book contains five careers including the hacker (a cybersneak who works to fill their own pockets), the hacktivist (a cybersneak who works for a political goal), corporate online security, government online security, and the lifer (a person who spends their life in the virtual world). All of these are built to allow characters with these backgrounds to seamlessly fit into your Clement Sector game!

Can you hack it?
79 page book.  Softcover.  Includes Free PDF.