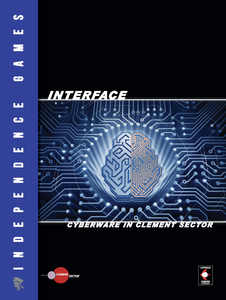 We can rebuild you...

Interface: Cybernetics in Clement Sector details the use of cybernetics in the Clement Sector setting. From those who hate and mistrust cybernetics, like those on Harrison, to the Caxtonists on Kingston who feel that cybernetics make them closer to God, you'll find it all in here. While seen as a bit gauche in a setting where biological rebuilds are more accepted, cybernetics are still an important part of life in Clement Sector.

Here you will find options to replace body parts, mind computers, hand computers, software, and much more. Also included is the Cyberneticist career to allow you to create characters with deep experience with cyberware.

While, of course, this book is intended to support our vast Clement Sector setting, it can easily be used in any Cepheus Engine or 2d6 SF setting.

Get ready. You'll be stronger, faster, better for it.
65 page book.  Softcover.  Includes Free PDF.