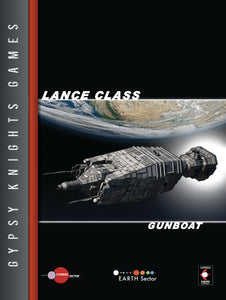 Ready to fire!
The Lance-class is a 300-ton Royal Navy gunboat that revived the concept of a gunboat.    Armed with a 50-ton particle beam spinal mount and a railgun barbette, the Lance had the capability to be a serious threat to larger warships.  The Lance was used by the British to defend their colonial holdings in Earth Sector and inspired several nations to come up with their own versions of these powerful little vessels.
Together with a purpose constructed interstellar capable gunboat carrier, the Maidstone-class, this allowed the Royal Navy to deploy up to six Lance-class gunboats to any system in which it was needed. This allowed for enormous flexibility and was a novel concept at a time where carriers were beginning to be considered by some navies to be an obsolete concept in space.
This book comes complete with full deckplans and statistics for both the Lance and the Maidstone to make your use of our product simple, easy, and fun.  In addition, the book includes some excellent fiction by author Bradley Warnes.
Though specifically designed for our Clement Sector setting, the Lance and the Maidstone can be imported into any science fiction setting with little effort.
Climb aboard!  Adventure awaits!