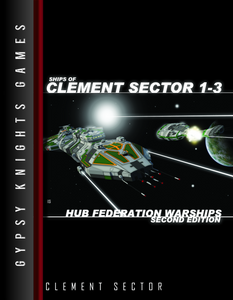 This book is a compilation of the first three entries in the Ships of Clement Sector series.  The vessels featured within these pages are all warships used by The Hub Federation in Independence Games' Clement Sector setting. 
The first vessel detailed here is the Kiviat-class patrol corvette.   The Kiviat-class is a patrol corvette designed and built by the Hub Federation to combat the local piracy problem.  Armed to the teeth and lightning fast, the Kiviat is more than capable of hunting down and destroying any pirates in the region.  At 600 tons, the Kiviat can make an ideal ship on which to set an adventure.  The ship could be used as the basis of a naval campaign, an enemy for those characters engaged in piracy, or a powerful personal ship for a group of hardcore adventurers.
The second vessel shown here is the Vulkan-class attack boat tender.  The Vulkan-class is a power projecting attack boat tender capable of carrying twelve deadly attack boats which the elite pilots of the Hub Federation Navy strive to be assigned.  The Vulkan and her dangerous squadrons of attack boats can make an ideal ship for adventure.  Vulkan can be used as the basis of an ongoing naval campaign, as the rescuing "cavalry" for characters in trouble, or as a fearsome adversary for your party of pirates.
The third ship featured is the mighty Moltke-class cruiser.  The Moltke-class cruiser is the largest ship in the Hub Federation navy and is currently the flagship of that force.  The ship is designed to destroy other large warships and act as a command ship for squadrons assigned to attack the fleets of other worlds if the need arises. The Moltke is an excellent ship for active navy campaigns, a perfect location for a diplomatic conference, a fearsome opponent or the ultimate warship to save the characters' lives if they are in peril.
While each of these ships has been specifically designed to fit into the Clement Sector setting, they could easily be used in other settings or within other science fiction RPGs if needed. 
 Get on board!  Adventure awaits!