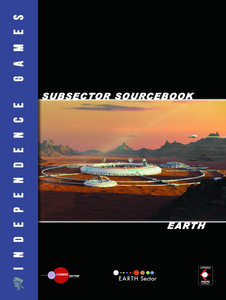 Welcome to Earth!
This sourcebook details the central subsector of Earth Sector. Named for the most important system in the sector, Earth Subsector is not only the linchpin of Earth Sector but is also the origin point for humans, altrants, and most uplifts.  Almost everyone in Earth Sector can point back to Earth Subsector as their home.
Subsector Sourcebook: Earth describes all of the systems within Earth Sector.  This includes Earth's home system as well as important worlds within the colonies of the nations of Earth such as Germany's Neu Berlin, Russia's Menshikov, and China's Bingxue Shijie.
Laid out with system maps, world maps, and physical data about each planet, this book is a treasure trove of information for Referees wishing to set a game in Earth Subsector.  Government, legal, cultural, and population details will help the Referee paint the picture of each world for their players.
Welcome home.