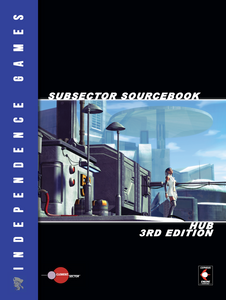 Visit the central worlds of Clement Sector!

The Hub Subsector is the location of the first settlements of Clement Sector dating back to the early 2200s and remains the central, most cosmopolitan of the four fully settled subsectors. It is the former location of the Conduit, the wormhole that once led across the galaxy back to Earth Sector and is home to The Hub Federation, Clement Sector's only interstellar polity.

The remainder of the Hub subsector consists of independent worlds, some of which hate the Hub Federation and those who work quietly with them. All of these worlds have a fierce desire to remain independent which has not been dimmed by the collapse of The Conduit.

Within these pages, you will find the British and German worlds of The Hub Federation, the cybertheocracy of Kingston, the wartorn world of Sophronius, the republic of Maximon, and many others.

Each world comes complete with detailed information concerning the system and the planet itself, yet leaves the Referee plenty of room to use these worlds as they see fit. Made with the busy Referee in mind, this book can be used to expand your knowledge of Clement Sector or as a useful set of worlds to expand your current campaign.
138 page book.  Softcover.  Includes Free PDF.