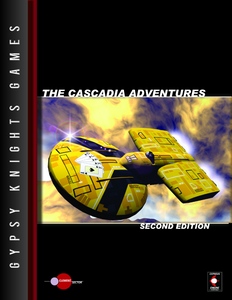 Join the crew of the MV Dust Runner as they face danger and intrigue across the Cascadia Subsector!
The Cascadia Adventures features the original Independence Games adventure series updated for use with Clement Sector:The Rules and The Cepheus Engine!  Included are all three of the Cascadia Adventures from our PDF series.
Save Our Ship - A "whale ship".  That's what the casinos on Chance call a starship sent to ferry back a wealthy gambler.  The Razz Casino dispatched their "whale ship", Royal Flush, to pick up an influential politician on Roskilde.  However, something has gone wrong.  Now the casino has hired you to find out what has happened.
The Lost Girl – Journey to the Gagnon system to locate the lost daughter of a personal friend of The Razz Casino's owner.  Has she been kidnapped?  Murdered?  Turned to a life of crime?  It is up to you to find out the truth.
Fled – An employee of the Razz Casino has stolen a large amount of money and fled from the Chance system to the Cascadia system.  Is he a mad genius?  Or is the theft of millions of credits only part of a detailed plan to change the status quo on one of the most powerful worlds in the subsector?