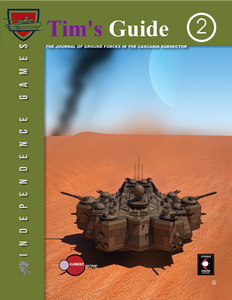 Stay informed!

In a subsector made up of independent worlds, it is important to know the military situation that you might find when you arrive on a planet. While governments have vast intelligence networks for that sort of information, the well-prepared rely on the Tim's Guide to help them understand each planet's ground forces. As the Wendy's Guides are for space navies, the Tim's Guides are for ground forces, sea forces, and aerospace forces.

Tim's Guide to the Ground Forces of Cascadia Subsector will bring you all of the available information concerning a planet's military forces. The Tim's Guide gives players and Referees alike insight into what equipment that planet's military uses, how the military's organization functions, and even the planetary government's available military budget.

This book provides information on the ground forces of Cascadia Subsector as well as a detailed look at the Yeti Super Heavy Battle Tank used by the Monroe Department of Planetary Defense.

Get your briefing today!
92 page book.  Softcover. Includes Free PDF.